Cloud Advisory
With Our Expert Advice, Simplify and Speed Up Your Cloud Journey
Cloud Advisory
Cloud Advisory
Cloud migration is not a "one-size-fits-all" endeavor. Every cloud transition, we think, necessitates a detailed plan driven by a strategy that is aligned with your business objectives. We provide a broad variety of advisory services to adopt a best practice approach to managing your apps, data, and security across numerous clouds, based on our knowledge across diverse industrial domains and cloud technologies. 
Our adaptable cloud platforms and complete cloud advisory services are built to help you provide superior Customer Experience and Return on Investment (ROI) from your single cloud or multi-cloud deployments.
Work Exclusively with Qset
Adopting a multi-cloud approach as cloud computing grows can help you uncover the next level of cloud benefits and drive digital innovation. 
Amazon Web Services (AWS), Microsoft Azure, and Google Cloud Platform are among the hyperscale cloud platforms available through Qset (GCP). Hyperscale cloud advisory provides a flexible, on-demand, consumption-based platform for developing, managing, and deploying applications across a vast global network.
You can get around the limitations of going all-in on a single cloud platform by using a multi-cloud deployment architecture that incorporates a mix of public and private clouds. This gives you the freedom to use multiple cloud platforms for different workloads based on your business units and technological needs.
.
How Will We Work With You
Our professionals collaborate with you to determine your business and IT needs, as well as your transformation goals, as well as to assess your workloads, assess cloud readiness, plan an effective migration strategy, and migrate your apps to the appropriate cloud platform. By balancing application placement in an optimal multi-cloud, hybrid IT environment based on unique application needs such as availability, performance, security, compliance, and portability, we help you pick the optimum mix of cloud and conventional infrastructure.
Our established Cloud Advisory Services experience can assist you in realizing the full benefits of the cloud:
Use industry-leading clouds like Amazon Web Services (AWS), Microsoft Azure, and Google Cloud Platform to enable your multi-cloud deployment approach (GCP)

Over 150 cloud-certified specialists assist in the delivery of projects that satisfy security, compliance, and governance standards.

To speed digital innovation, make use of our experience in cloud-enabled and cloud-native technology.

In a hybrid IT environment – cloud and non-cloud – modernize your IT infrastructure by putting the correct workloads in the right places.

With our worldwide coverage and proven expertise, technologies, and best practices, we can complement your internal IT and help you save money on IT personnel and resources.
We are one of the best app development firms working with the single purpose of giving a client satisfying work notwithstanding the complexity of a project. With the experience of 10+ years, we are ready to turn a client's idea into a live and running mobile app, be it for Android or IOS.
Choose From A Variety Of Hiring Models
Hosting with various business models & practical environments is a challenge & holding an industry-leading web development company, we realize it.
Dedicated Team
If you describe a company with a project that needs dedicated recognition, ask regarding dedicated teams. It's a pay-as-you-go monthly rolling contract.
Pay only for measurable work
No hidden costs160 Hours of part & full time
Controlled Agile
The established agile engagement pattern satisfies best for the who have a bounded budget and still requires some flexibility upon the dynamic conditions.
Complete control over budget
Time & Material
If you represent a business with limitless projects and require ongoing work, ask concerning hourly. It's a pay-as-you-go hour-wise rolling agreement.
Requirement based working hours
Pay only for measurable work
We retain the knowledge to supply you with the distinctive applications that exhibit your business properly in front of the smartphone audience as one of the top-notch android app development businesses. Our app developers at QSET are experts at designing, developing, testing, and deploying feature-rich Android apps. We've successfully serviced a variety of clients with varying objectives, putting us in a position to tackle a wide range of complex app difficulties.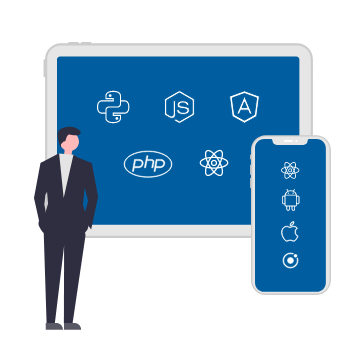 Custom Android Application Development
Apps for Advertisements and Promotions
Client-Server Applications
Location-based Android Apps
Apps for Travel, Entertainment, and Lifestyle
Games Application Development